Careful… your dietary choices now affect somebody else.
Quick facts: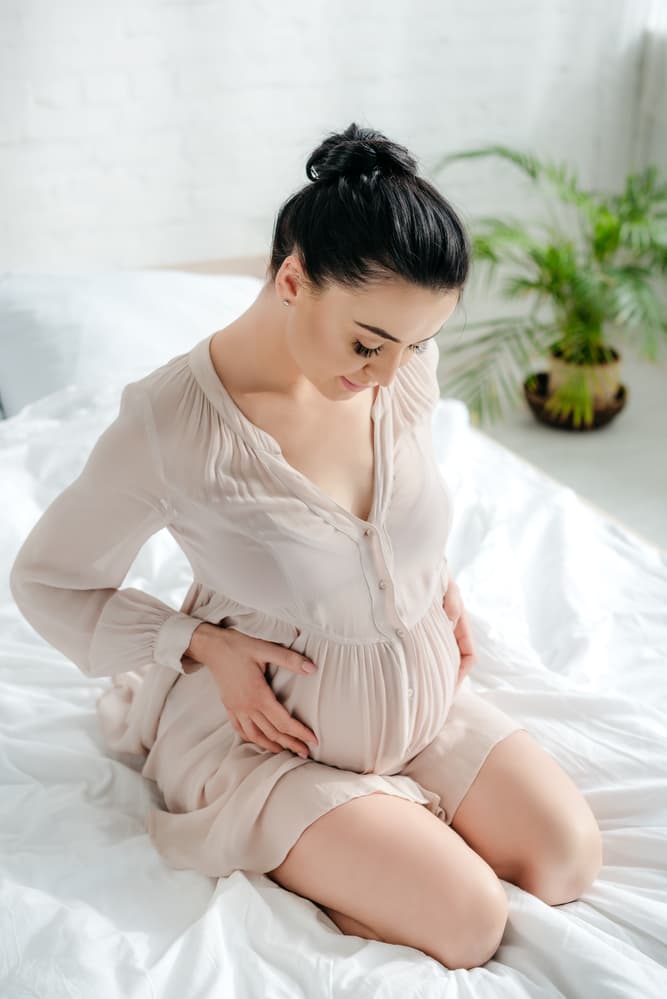 Major nutrients to include in your diet during pregnancy ➡️
✅ Proteins (cooked meat, chicken, fish, beans, dairy products, soy products) ✅ Folate (legumes, leafy greens, asparagus, eggs, beets, citrus) ✅ Iron (poultry, fish, eggs, beans, leafy greens, nuts, seeds, wholegrains) ✅ Iodine (grains, dairy products, cooked fish, seaweed, fruits and veggies) ✅ Vitamin D (fatty fish, soy milk, orange juice, cheese, eggs)
Food and drink to avoid when pregnant ➡️
❌ Buffets and food bars ❌ Raw, undercooked meat and eggs. (deli meats, pre prepped meat) ❌ Chilled seafood. ❌ Soft Cheeses. ❌ Meat spreads and smoked seafood. ❌ Pre-packaged produce. ❌ Unpasteurised milk or juice.
During Pregnancy
A women's immune defences drastically drop when pregnant, to help protect your growing baby. This puts you at greater risk of getting sick or developing infections, so it's of heightened importance for mums-to-be to have an extra cautious vibe with your food prep and to avoid certain foods that may contain toxins – which can be dangerous to the health of your baby.
Pregnancy Nutritionist Services
Accredited Practising Dietitian Katrina Ridout offers a range of premium services & nutritional advice – focused on helping you through the pregnancy journey, no matter your circumstances.
Here's some other specific areas on how Kat can help you ➡️
How much weight should I gain through pregnancy?
Your baby's development and the overall health for both mother and child, can be affected by the amount of weight you gain when pregnant.
According to the Institute of Medicine guidelines for gestational weight gain – which are used both internationally and in Australia – the amount of weight women should gain throughout their pregnancy depends on what your weight was before you became pregnant or your pre-pregnancy "Body Mass Index (BMI)". Your healthiest weight gain will depend on your starting weight.
Want to know how much weight you should aim to gain during pregnancy?
Click here
Calculate your BMI Ladies!
Body Mass Index (BMI) is the really important figure used to work out what the recommended amount of weight your body should gain when pregnant.
We've got your back! Work this out now by typing in the boxes below ➡️
Now that you've calculated your pre-pregnancy BMI, you can check what your recommended gestational weight gain for pregnancy is below.
Pre-pregnancy BMI
Recommended weight gain over the whole pregnancy
Recommended weight gain per month in the 2nd and 3rd trimester*
less than 18.5kg/m2 (Underweight)
12.5kg to 18.0kg
2.0kg to 2.6kg
18.5 – 24.9kg/m2 (Normal weight)
11.5kg to 16.0kg
1.5kg to 2.3kg
25.0 – 29.9kg/m2 (Overweight)
7.0kg to 11.5kg
1.0kg to 1.5kg
23.0 – 27.5kg/m2 If Asian
Above 30.0 kg/m2 (Obese)
5.0kg to 9.0kg
0.8kg to 1.2kg
Above 27.5 kg/m2 If Asian
*Average gain in the first three months is 0.5kg to 2 kg for everyone

Adapted from Institute of Medicine (2009)
If you feel you are already overweight or even obese leading into pregnancy, the risk factors above are even higher – and increase in line with your BMI. Therefore, it's even more important for mums to achieve a healthy gestational weight gain during pregnancy.
Sounds daunting? You might even be thinking, it's too late. I've already gained way more weight than I should… or I can't possibly eat any more than I already am as I feel so nauseas and have zero appetite. Well, the good news is – no, it's never too late to start making healthier choices relating to your diet and lifestyle. Even the process of you taking action, will make you feel better…
What can really influence how much weight you gain?
➡️ How and what you eat
➡️ How active you are during your pregnancy
➡️ Pregnancy-related symptoms (nausea and fatigue)
➡️ Changes to your appetite. (food cravings and aversions)
➡️ Fluid retention
You, and only you can provide the nutrients that both your body and your growing baby need during pregnancy.
Feeling some pressure? We understand there's so much to take in which does cause worry but try not to overthink with information overload. When planning your diet during pregnancy you'll likely have to manage pregnancy symptoms too, such as morning sickness, fatigue, cravings and constipation – whilst still ensuring you get all the nutrition you need to stay healthy.
Let us take some of the load off – Kat is here to help guide you throughout your pregnancy journey to ensure that you have a healthy pregnancy and that your baby gets all the nourishment it needs to thrive… and make you feel better too!

Why take any unnecessary risks? Book a consultation today. It's time to focus and take action to help you have a super-healthy pregnancy – giving your baby the very best start to a long life. #HealthIsWealth